The Aztec Brand
Drawing on the ancient traditions of innovation and mystery, Aztec Gin strives to push the boundaries with our modern interpretation and playful flavour pairings. Elevating the humble gin and tonic of yesterday into the colourful flavour sensation of today.
Hated by the gin purist, loved by the adventurer!
Our Gin liqueur range has a Welsh dry gin base, which is made for us by our local distiller partner; Cygnet Gin. The spirit is expertly distilled and contains Almonds, Angelica Root, Chamomile, Cardamom Seed, Coriander Seed, Juniper Berries, Lemon Peel, Orange Peel, Lime Peel, Pink Grapefruit, Liquorice Root and Orris Root. We then flavour this Gin using a combination of high quality flavourings, 100% extracts and simple syrups for sweetness. With chemistry, passion and a little time; we are able to bring you the complete Aztec Gin Liqueur range!
More Info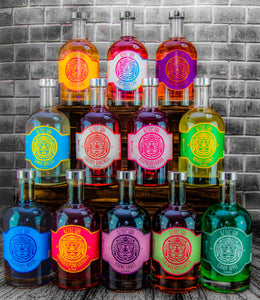 Aztec supports responsible drinking - Sip, don't Gulp.